GREEN WALLS BRING BACK THE NATURE TO THE URBAN PLACES
According to the United Nation's World Urbanization Prospects, 54 percent of the world's population currently lives in urban areas. This is an increase from 1950, when just 30% of the global population lived in cities. By 2050, 66% of the world's population is projected to live in metropolises. By 2030, the world is expected to have 41 mega-cities, with 10 million inhabitants each.
We believe vertical gardens could feed and employ all people around the world.We need to bring back nature to the city. We don't have a lot of space [in cities], but we do have a lot of walls.
Offices and apartment buildings grow vertically as urban space shrinks, so why not agricultural fields?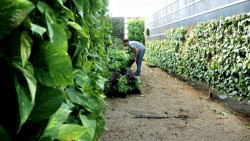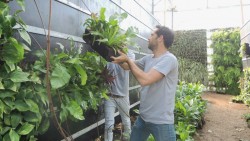 Vertical gardens are part of a worldwide trend looking for ways to marry technology and agriculture in an attempt to feed an ever-expanding global population.
Vertical field is on the cutting edge of design and manufacturing technology. Green Wall systems are produced from the finest poly carbon Materials, are light weight and U.V. protected. Operated by smart computers which precisely measure the amount of water needed in each planter, green wall systems are easily maintained. Unoccupied planters are identified by the system which directs the roots of neighboring planters to them thus enhancing your plant life. Keeping it natural with the help of our soil-based technology, we are able to grow almost any plant in any climate. An arrogated system distributes air equally providing the perfect growing conditions. With endless design possibilities our vertical fields and gardens can be adapted in your home or business in ways you can not imagine. Here's to growing good health!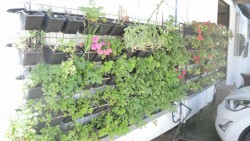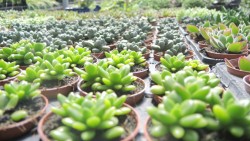 Adventages of green wall / vertical garden systems:
Green walls saves space and energy
Green walls are thermic isolators in winter and summer period
Green walls conserves and saves water
Green walls protects from sun, rain and wind
Green walls are sound isolator and uses as visual barriers
Green walls purifies the air and reduces pollution in the vicinity of the wall
For green wall project and offer contact our company here.
Smart Garden Hub for irrigation systems from now on in Serbia!
Our company has become official distributor for Green IQ company and their smart products  for irrigation system, that can save up to 50% on your water consumption.
The Smart Garden Hub, which is widely used by homeowners, is also a perfect solution for professional gardeners, irrigation companies, commercial real estate, and municipalities.
More about these products you can see on our web page here.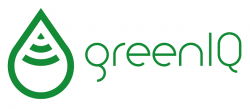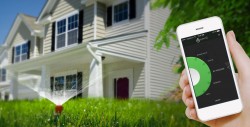 Price List GreenIQ
Smart Garden Hub – EU Model
EUR 249,00
GreenIQ Smart Garden Hub uses the most advanced Internet, cloud and mobile technologies to intelligently manage garden's irrigation and lighting scheduling, from anywhere, at anytime. In a typical garden, the system can save up to 50% of your water bill.
Works in Europe (230V).
Note: Price includes VAT
Order this product here
Smart Garden Hub brochure you can download here
GreenIQ installation guide you can download here
GreenIQ user guide you can download here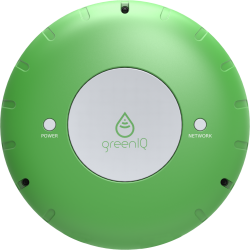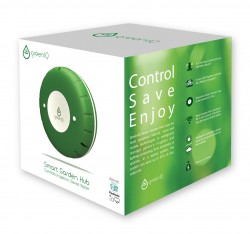 GreenIQ Flow Meter 3/4″ –  EU Model
EUR 49,00
GreenIQ 3/4″ Flow Meter allows your Smart Garden Hub to:
Get usage and saving reports in Liters or Gallons.
Get alerts on leaks, pipe breaks and insufficient water flow
Compatible with pipe threads in Europe – BSP thread.
Note: Price includes VAT
Order this product here
Flow Meter brochure you can download here
GreenIQ Flow Meter 1″ –  EU Model
EUR 69,00
GreenIQ 1″ Flow Meter allows your Smart Garden Hub to:
Get usage and saving reports in Liters or Gallons.
Get alerts on leaks, pipe breaks and insufficient water flow.
Compatible with pipe threads in Europe – BSP thread.
Note: Price includes VAT
Order this product here
Flow Meter brochure you can download here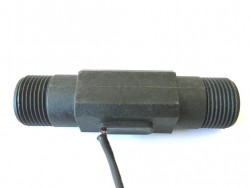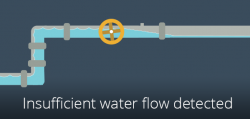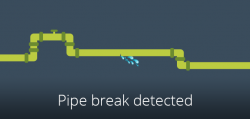 "Lagerstroemia indica" / Crepe myrtle
The right choice for those who notice details in landscape and take pleasure in them.
"Lagerstroemia indica", commonly known as crape myrtle, is one of the most decorative garden plants. It is a deciduous shrub or small tree in the loosestrife family, that originates from China, Japan and Australia. It can reach 8 metres in height, but only 3 to 4 metres in our climate conditions.
Its trunk is very decorative and colourful. It has a smooth, mostly beige bark, with smudges of green and red, streaked with dark brown, which makes the trunk seem almost barkless.
Young twigs are extremely rectangular, with an opposite leaf arrangement. The leaves are simple, oval, smooth, leathery and bright green, with reddish shoots. In late autumn, before falling off, they turn orange. Purple, white, or dark rose, almost red flowers, smother the branches from midsummer to late autumn. Panicles of crinkled flowers can reach up to 25 centimetres. The fruit is a capsule, green and succulent at first, then ripening to dark brown husks, which stay on the tree until spring.
Crape myrtle can be grown as a terrace shrub or a tree with a round shaped crown. Its ideal habitat is warm and sunny, sheltered from autumn wind which can damage the flowers. If you wish to keep the shrub-like form, and increase flowering, you need to prune last year's offsprings, which is done every spring. The pride of India will grow in most fertile garden soils, as long as the soil drains well. It can be planted all year round if it is in a container.
This plant is the right choice for those who notice details in landscape and take pleasure in them. Make a change in your garden or a terrace and enjoy the colours of the flowers and bark of "The pride of India".
Growth requirements
Crape myrtle thrives in the warm and sunny regions, fertile and well-drained garden soils, low in nitrogen and acidity. The best growth is expected if the shrub is sheltered from cold wind. Be sure to add slow-release fertilizer every spring. It is most fragile during its first year, so it needs regular watering and fertilizing, and protection from low temperatures.
Pruning
It should be pruned every spring. If you wish to keep the shrub-like form, and increase flowering, you need to prune last year's offsprings as well as dead and excessive branches.
Green roofs- New trends in greening
In the most developed countries there is a growing tendency for installing green roofs. Considering the decreasing amount of green spaces, engineers tend to introduce them wherever possible. France has recently introduced a law that prescribes all newly built objects around commercial zones to be partially covered in plants or solar panels. In 2009 a new bylaw introduced in Toronto, obliged all new residential and industrial objects to have green roofs.
Green roofs are a rapidly growing trend in our country too, not only in individual projects, but also as intensive and extensive façade greening, intended to enhance the quality of living in cities.
Our company, which has been specialized in landscape architecture and design for 20 years, has been receiving many inquiries about green roof design. It represents a new challenge in the field of design and construction, having in mind the complexity of growing vegetation on the artificial roof base.
The greatest challenges of green roofs
While designing a green roof, all the preconditions should be taken into consideration, including the construction of the object, its use, position regarding the weather conditions, security. The difference between surface temperature and air temperature is huge, the winds are stronger, exposure to light is greater, rain showers are more intense. Considering the mentioned facts, the crucial questions that follow a green roof design, preceding the esthetic ones, are those concerning the structural integrity of the roof- its construction must remain waterproof, stable, lasting, and damage resistant. The correct choice of the outdoor furniture, building materials and plants reduces the weight of roof elements to an optimal level, so that it does not threaten its integrity.
Once the conditions and requirements are known, one can start designing and constructing a green roof. There is a wide choice of conceptual solutions, and we have to be flexible enough to allow a custom tailored solution that exactly fits the clients' taste and needs. The installation of every element or plant is carefully considered, according to their specific position on the object.
Who are our most frequent clients, when it comes to green roof design: private entities, companies or city institutions?
The question of greening is not only a matter of esthetics or keeping in touch with the nature, but also improving the eco and climate conditions within the created eco-systems. So far, we have received inquiries mostly from private entities, who wanted to enhance their living space by making it greener and surrounding themselves with nature. However, companies and institutions are also becoming increasingly aware of the need for improving the eco and climate conditions with greenery. World famous cities have been looking for ways of making balance between the following extremes: industrial building and the need for public green space. Therefore, modern projects often include green roof and terrace designs.
Are all types of plants suitable for green roofs?
Plants recommended for green roofs are low growing species, small shrubs and ornamental grasses, climbers, small trees and small grafted plants. Lightweight mineral-rich substrates will improve the plants' growth. Tree anchors hold higher transplants in place in windy areas. Such selection of plants will enable a pleasant view, both during daytime and night, and also reduce the amount of noise coming from the street.
With the help of turf and potted plants, balconies and flat roofs can form interesting spaces, green oases. Roof gardens can include a number of elements used in classic gardens, such as geometric, landscape or mixed style, with significant difference in their design and structure.
If you wish to transform your roof or terrace into a green oasis, Grass Garden Company, specialized in carrying out landscape architecture projects, will provide full support and service, from conceptual design to installation and performance.
Grass Garden at the Landscape Architecture Seminar 2016
Our team of experts took part in this year's Landscape Architecture Seminar, held on 5th February, 2016, at the Faculty of Forestry, University of Belgrade. Association of Landscape Architects of Serbia (SALA) has organized the seminar for years, carefully choosing its subjects concerning architecture and landscape design. Our engineers, specially trained by our partner company Vertical Field from Israel, gave a lecture on the new and innovative green wall system. This unique system of panels for indoor and outdoor green wall structures and vertical gardens uses special substrates and smart irrigation system, which makes it nature-friendly and supports the natural plant growth. The lecture on green walls, their advantages, installation and maintenance, has raised great interest with Serbian landscape architects, and they tend to introduce eco-friendly and sustainable solutions into their conceptual designs.
Grass Garden at the Belgrade Building Expo
42. Belgrade Building Expo was held from 19th April to 23rd April, 2016, at Belgrade Fair. The event gathered over 500 exhibitors from 24 countries from Europe and Asia, under the motto "Right decision at the right moment".
Belgrade Building Expo is the best indicator of the state of the building industry; last year this sector influenced the increase in GDP for 1.8%, and the value of construction works carried out increased by more than 25%.
This year's Expo presented a variety of innovations and pointed out a giant leap that had been made in this industry sector in just one year. Visitors at the fair were able to see the most up-to-date technical solutions and constructing systems, and find out how to make their homes more economical and comfortable. Our company presented the latest constructing methods, by displaying green wall and green roof systems, with their practical and eco-friendly approach.
Concerning the fact that vertical garden and green roof systems are still relatively new and unfamiliar to Serbian public, visitors at the Expo fair visited our stand with great interest looking for more detailed information about these eco-friendly and green solutions for their constructions.
Roof Gardens
Green roofs and roof gardens have become a worldwide trend for more than a decade ago, in the central urban areas, where there are few green spaces. In addition to esthetic values, roof garden has ecological functions such as improved protection against heat and cold, noise damping, improving microclimate conditions through evaporation, rain water retention, reduces the load during heavy rains, the protection of the waterproofing of the roof and so on.
Green roofs are divided into: extensive and intensive, depending on the depth of the substrate, and species that will be planted. In order for the roof garden to be stable and long-lasting, it is essential to build multi-specialized layers:
Waterproofing
Drainage foil panel
Geotextile
Specialized substrates for roof gardens, whose thickness depends on the type of the roofs (extensive or intensive)
When designing a roof garden it is necessary to comply with all above mentioned layers as well as working processes. Listed layers form the roof structure and make it waterproof, stable, durable and protected from damages. Proper selection of furnishings, materials and plants, the entire weight of the elements of the garden can be reduced to the optimum which will not jeopardize the safety of the object.
If you want to complement your roof space or terrace with the plants and create your green oasis, our team of experts will provide you with complete support and service, from initial concept to the executed state, taking into account all the preconditions necessary for the successful formation of roof gardens.
Drainage foil panel
Drainage foil panel is specially designed for green roofs because it has the ability to delay rainwater, avoiding its retention and protecting the waterproofing system. The panels have a high load resistance and are suitable for creating all types of green roofs: extensive and intensive.
Specialized substrate
In order to make roof structure long-lasting and stable is of utmost importance that to set up specific substrate for this purposes as the last layer. In cooperation with the European substrate manufacturer, our team uses a substrate which is composed of volcanic stone, specializes peat, humus substances and sand. An important feature of the substrate is that it has a lower specific weight, which goal is to List minimize load on the object construction. This substrate has a well-balanced water-air regime, which ensures the proper plant growth and development in the specific conditions of the roof garden.
Importing exclusive seedlings
In order to offer customers a wide range of planting material, for many years we have been importing exclusive planting materials imported from European nurseries. Some of atypical species, adjusted to our region, which are purchased in cooperation with the largest European nurseries are: Araucaria araucana (Chilean pine), Parottia Persica, Photinia, bamboo, trees  6-7m high suitable for alleys and solitary planting (Quercus palustris Acer x freemanii, Acer rubrum, Sophora japonica 'Regent', Prunus serrulata 'Kanzan' …)
Acorus gramineus Variegatus
 Veoma atraktivna ukrasna trava sa zanimljivim žutim prugama po listovima. Raste na sunčanim pozicijama. Dobro uspeva na vlažnom, močvarnom zemljištu.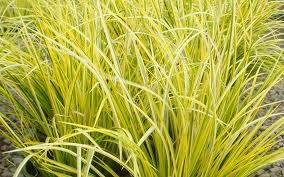 Japanese maple
English japanese maple
Acer palmatum L. 
Japanski javor. Raste kao veliko, gusto, dobro razgranato žbunje ili malo drvo. Početkom vegetacije je zelene boje, a u jesen je jarko narandžaste boje.